Healthy eating doesn't just benefit your physical health but your mental health too. But how do you create a healthy eating plan?
In this article, we give you some tips on creating your own healthy eating meal plan – whether your goal is to lose weight, have more energy or to proactively manage your longer term health.
What Is A Healthy Eating Meal Plan?
A healthy eating meal plan is one that gives your body all the nutrients it needs to function properly. That means the right amount of protein, carbohydrate, dairy and fat. A healthy, balance diet should include high fibre, starchy carbohydrates forming the base of each meal; lots of fruit and vegetables; contain at least two portions of fish a week and preferably oily fish such as salmon or trout; and is low in saturated fat and sugar.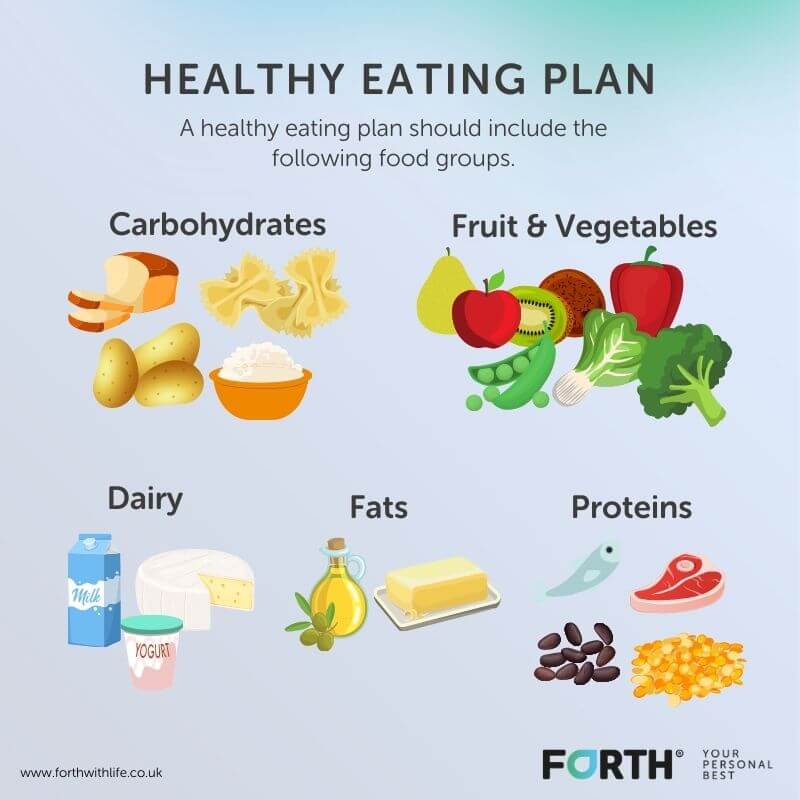 What Are The Right Portion Sizes For A Healthy Diet?
How much you need to consume is dependent on your age, gender, weight, height, and physical activity. According to the British Nutrition Foundation, we should aim to have the following as part of a healthy balanced diet:
5 or more portions of a variety of fruit and vegetables a day.
3-4 portions of starchy carbohydrates per day
2-3 portions of protein per day e.g., meat, fish, eggs, beans or pulses
2-3 portions of dairy e.g., milk, cheese, yogurt
Example Healthy Eating Meal Plan
A healthy eating meal plan could consist of the following:
Breakfast
Low sugar Muesli with milk, yogurt, and a portion of fruit e.g., blueberries; or
2 slices of wholegrain toast with unsaturated margarine or a thin layer of butter with scrambled egg; or
Bowl of porridge made with milk, sprinkled with nuts/seeds, a little drizzle of honey and a portion of fruit
Lunch
Homemade vegetable soup with a slice of whole grain bread; or
Egg mayonnaise salad sandwich made with whole grain bread; or
Beans on toast or jacket potato and beans
Dinner
Baked salmon with steamed vegetables and either whole grain rice, pasta or boiled or steam potatoes; or
Spaghetti Bolognese made with minced beef, turkey, or lamb or for a meat free alternative try lentils or Quorn; or
Bean chilli with whole grain rice; or
Chicken and vegetable tray bake
 Snacks
Swap out unhealthy snacks such as crisps, cake and chocolate for:
Portion of fruit e.g., apple, banana, slice of melon
Vegetable sticks e.g., carrots, cucumber, peppers with a dip
Nuts and seeds e.g., unsalted peanuts, cashew nuts, almonds, sunflower seeds
Yogurt (just make sure it's not high in sugar)
Oatcakes with cream cheese
How To Plan Healthy Meals
Now you know which food groups make up a healthy diet, you can begin to plan your meals for the week.
This may take some time to begin with as you explore new recipes and swap out your usual food purchases for more healthier alternatives.
The best way to start to is plan your evening meal if this is the main meal of the day. You can then look to swap out your usual breakfast cereals for healthier alternatives. In addition, if you batch cook at the weekend, you can freeze it to have the following week, saving you time. You can also have any leftovers for lunch the next day – cooking extra pasta for example, is a great way to save time on prepping lunch.
Top 5 Benefits Of Healthy Meal Plans
There are many benefits of planning healthy meals, but here are our top 5:
1. Improved health. Having a healthy, balance diet will help all aspects of your wellbeing include mood, sleep, energy levels and weight. It will also help lower your risk of developing heart disease, diabetes, or stroke in later life.
2. Reduces food waste. Planning meals and going to the supermarket with a list will help reduce impulse purchases as you will be focused on the ingredients you need on your list. So it can help to reduce food waste.
3. Saves money. Planning meals for the week and going to the supermarket with a list may help you save money as you will be less tempted to buy more expensive ready-meals or precooked sauces etc, which can cost more than making them from scratch. Plus, if you regularly buy takeaways because you don't know what to cook, having a weekly meal plan may reduce the number of takeaways you buy helping to save money.
4. Reduces unhealthy snacking. A healthy weekly meal plan will help reduce snacking because you'll be creating healthy, nutritious, and satisfying meals that balance blood sugar levels. This should keep you fuller for longer and reduce the need to snack on unhealthy foods to give you an energy boost. You can also factor in healthier snacks during the day like fruit, vegetables, nuts, and seeds rather than high fat or sugar foods.
5. Inspires you to try something new. Switching to a healthier diet present the opportunity to try new foods or cuisines. As you progress, you'll gain the confidence to customise recipes and get creative.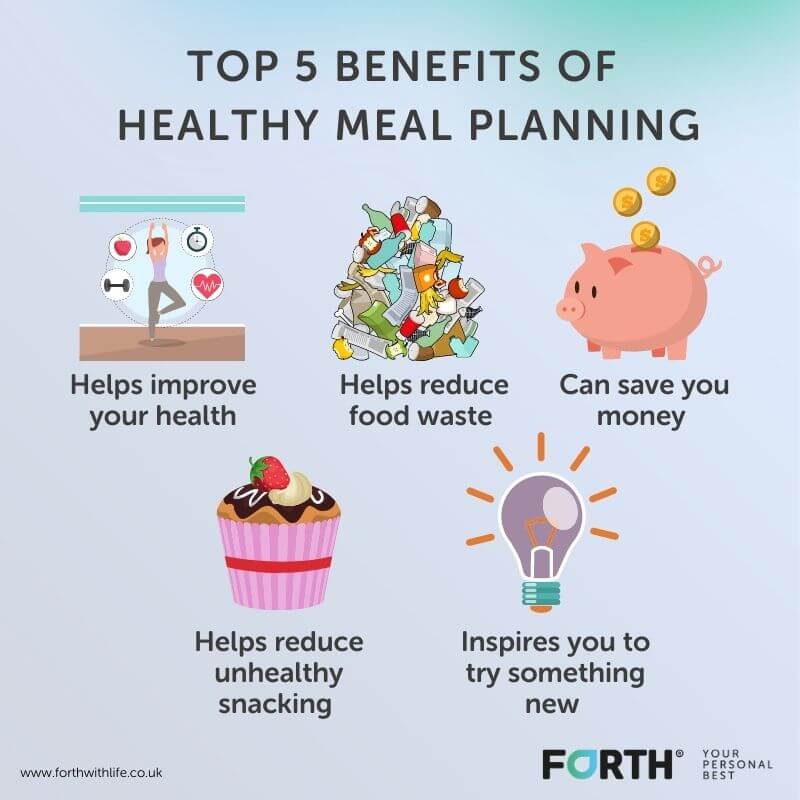 Tips To Help With Healthy Meal Planning
Here are our top 10 tips to help get your started with your healthy meal planning:
1. Find inspiring recipes. The internet is a great resource for healthy recipe ideas, or you could flick through cookbooks the old-fashioned way. Choose recipes that don't use lots of ingredients or use complicated cooking methods as this can add stress to the situation. Instead start with simple, tasty recipes that can be ready in 30 minutes, helping build up your confidence if you haven't cooked from scratch before.
2. Make a shopping list and take it with you. Grab a pen and paper and start making a shopping list incorporating all the ingredients you will need for your recipes as well as healthy snack ideas. Be sure to look in your fridge, freezer, and cupboards so you don't buy items you already have.
3. Buy local, seasonal produce or why not grow some of your own? Local produce is fresher and tastes better plus it's better for the environment. You could even try growing some of your own fruits and vegetables to add to your meals. Plants like tomatoes, peppers and even herbs are perfect for beginners. You're also more likely to enjoy the food if you feel like you have played a major role in producing it.
4. Pushed for time? Try batch cooking. If you find yourself pushed for time during the week, it may be useful to set some time aside to batch cook meals. You can put together a whole batch of healthy, wholesome meals and store them in the freezer. That will make lunchtime or evening meals easier and quicker. Many people find Sunday is a good day to set time aside to bulk cook.
5. Don't get bored, have themed food nights. Planning themed nights not only makes meal planning easier to manage but also helps to stop the routine from becoming boring. It's a great way to get the rest of the house involved too. For example, if you're used to a Saturday night takeaway, why not prepare your own, healthier version?
6. Use leftovers. Leftovers can be a great way to prevent food waste and to make a brand-new meal for the next day. Excess fruit, vegetables and grains can easily be whipped up into a soup or a stew while leftover fruit can be repurposed into a smoothie.
7. Don't forget snacks. When it comes to planning your meals, it's not just dinner you need to consider but breakfast, lunch, and snacks. When choosing snacks, go for nutritious, low-fat options such as fruit, vegetables, nuts, and seeds. High-fibre snacks will help to keep you feeling full for longer so you're less likely to snack later and are often low in calories. Try porridge for breakfast or high protein foods like eggs or avocado on wholegrain toast.
8. Keep a diary. Keep a diary of what you have eaten during the day and write down how you feel a few hours after eating, so you can see if any of the foods are affecting your mood, energy, or digestive health.
9. Once you have become a seasoned planner, experiment with new recipes. As you progress through your meal planning, you can begin to add in new recipes that experiment with new ingredients or cooking methods.
10. Give it time. Getting into any new routine takes time, so don't be tempted to give up too soon and give it at least 6 weeks.
Conclusion
Whatever your reason for starting on a healthy meal plan, ensure it's balanced and the portion sizes are right for you depending on your age, sex, weight, height and amount of physical activity you do each day (this includes all activity not just planned exercise).
A healthy meal plan starts with understanding the nutrition your body needs to function properly. Ensuring you have the right amount of protein, carbohydrates, fruit, vegetables and fats.
Finally, give it time. Change doesn't happen overnight, but once you've established a routine it'll become easier and you'll start to notice the health benefits.
You can check to see if your current diet is providing enough vitamins and minerals with our vitamin deficiency home blood test. It checks your levels of key nutrients essential for overall wellbeing.
Was this helpful?
Let us know if you liked the post. That's the only way we can improve.