Menopause is a natural part of life and is a gradual biological process that all women go through. However, in today's modern world where we have a longer life expectancy, women are spending more of their life in post-menopause.
Therefore, it is important that women are informed about the menopause, the potential long-term health issues caused by changes in hormone levels, and the options available to help manage menopause symptoms and maintain quality of life post-menopause.
What are the stages of menopause?
There are three stages of menopause that women go through; perimenopause, menopause and post-menopause. Each stage comes with its own symptoms and challenges for women.
WHAT IS PERIMENOPAUSE?
Perimenopause is the phase that leads to menopause. Women tend to start perimenopause in their early 40s and it can last anywhere between 5 and 10 years. The symptoms of perimenopause are often wrongly associated with menopause.
Unsure if you're perimenopausal? Use our interactive perimenopause symptom checker to gain more insight.
WHAT IS MENOPAUSE?
Menopause is the point in time when ovulation stops, usually defined when a woman has not had a period for 12 months or more. On average, women reach menopause between 45 and 55 years of age. Perimenopause, the phase leading to menopause, can start as early as 40. Perimenopausal symptoms can last for up to 4 years after you've entered the menopause.
Early menopause is when periods stop at the age of 40, but before the age of 45. Approximately 1 in 20 women experience menopause before the age of 45. Premature ovarian insufficiency (POI) is where menopause occurs before age of 40 years.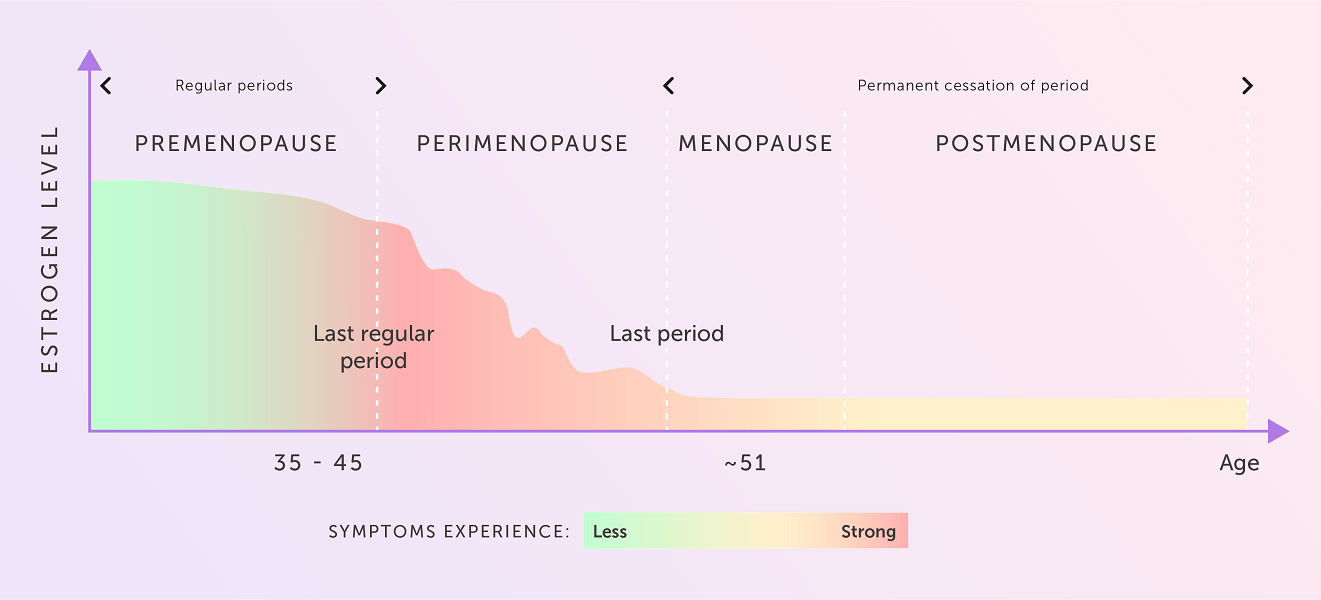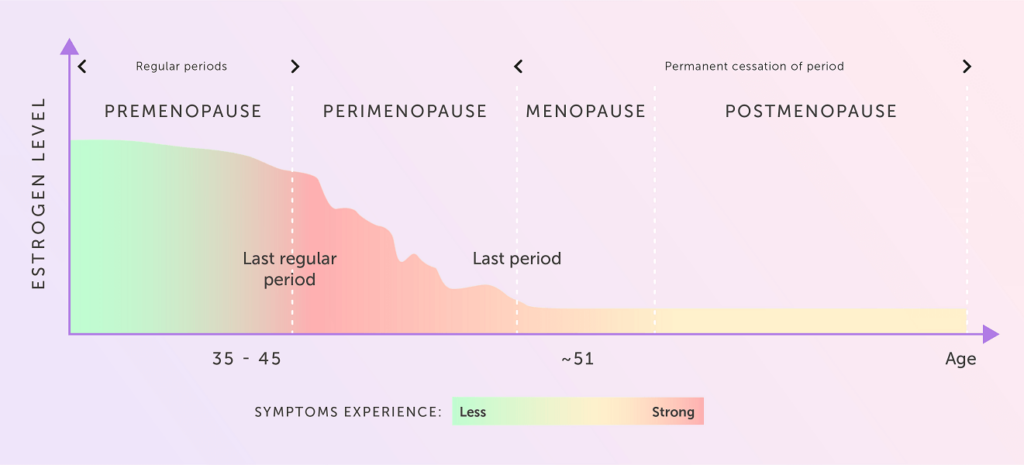 WHAT IS POST-MENOPAUSE?
Post-menopause is the term used to describe the time period after the menopause when menstruation has ceased.
How to know if you're going through perimenopause or menopause
Generally, perimenopause is diagnosed based on symptoms and once all other possibilities have been excluded. Until now, blood tests have only measured hormones at a single point in time, usually day 3, and therefore do not map out the fluctuations in hormones and the complex interplay between the control and ovarian response hormones.
We've developed the only blood test in the world that can confirm if the symptoms you are experiencing are due to perimenopause.
Our unique perimenopause home blood test, MyFORM™, measures follicle-stimulating hormone (FSH), luteinising hormone (LH), oestrogen and progesterone. By combining blood analysis with artificial intelligence and clinical expertise, we are able to map out your hormones across an entire menstrual cycle. This enables us to provide you with your own, personalised hormone curves across your menstrual cycle. From this, you will be able to see if your ovaries are less responsive to the two control hormones.
How does each stage impact fertility?
As you transition through to the menopause, your periods will become irregular and ovulation less certain, making it more difficult to become pregnant. This is due to your ovaries becoming less responsive to your two control hormones – follicle-stimulating hormone (FSH) and luteinising hormone (LH) – that trigger your ovaries to produce oestrogen and progesterone. The results of declining levels of oestrogen and progesterone are increased levels of FSH and LH.
However, it is still possible to become pregnant during perimenopause, as ovulation can occur even if your periods are irregular or without having a period. So, if you are not planning on having children you should continue to use a contraceptive.
"With reduced ovarian responsiveness comes sporadic ovulation and hence reduced fertility", Dr Nicky Keay, Forth Chief Medical Officer
YOUR HORMONES DURING PERIMENOPAUSE & MENOPAUSE
The main hormones that change as you transition to menopause are the two ovarian hormones which are oestrogen and progesterone; and the two control hormones which are follicle-stimulating hormone (FSH) and luteinising hormone (LH). It is the declining levels of oestrogen that cause many of the symptoms associated with perimenopause, with raises in FSH disrupting temperature regulation.
Your FSH levels rise and fall throughout your menstrual cycle, but will start to increase as you transition through the perimenopause phase and to menopause.
Your oestrogen levels will continue to decline during the menopause, until levelling off a low level. In contrast, FSH and LH levels will continue to rise.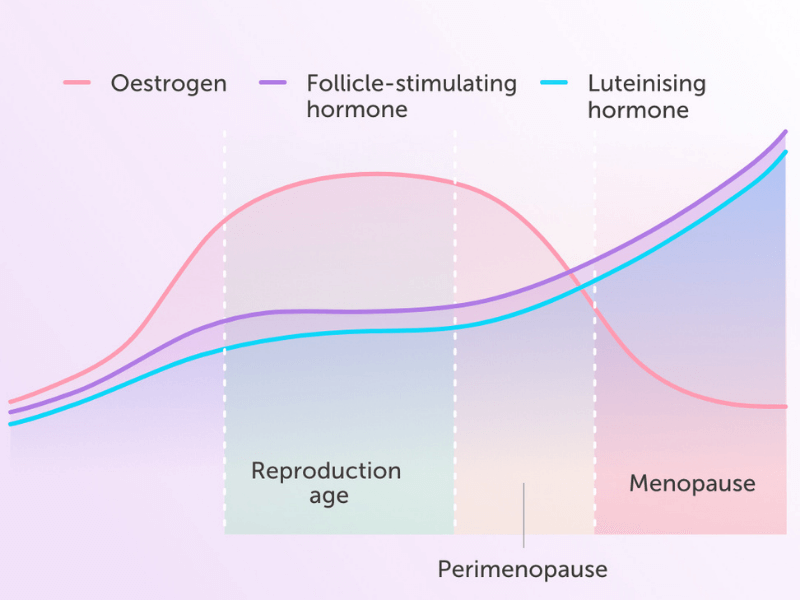 Perimenopause & Menopause Symptoms
Although it's common to refer to menopause symptoms, it's actually the transition phase called perimenopause that causes the majority of symptoms.
Perimenopausal symptoms can start months or years before your periods stop and last for up to 4 years after. There are over 34 different symptoms women experience, but you may not experience them all:
Is there an impact on long-term health?
As well as the drop in oestrogen levels, the menopause causes changes to the metabolism and cardiovascular system. This increases your risk of developing:
Cardiovascular disease
Cancer
Metabolic diseases
Osteoporosis
However, understanding these risks early on means you can make lifestyle changes to help improve your health in later life. Even if you are post-menopausal, there are changes you can make to your diet and lifestyle to ensure you stay fit and healthy.
"With increasing life expectancy, women are spending more time of their life in the menopausal state. So, looking for strategies to enjoy this part of your life is time well spent.", Dr Nicky Keay, Forth Chief Medical Officer
HOW TO COPE WITH SYMPTOMS & IMPROVE LONG-TERM HEALTH
There are a number of ways to manage the symptoms of the perimenopause. These include:
Ensuring you have a healthy, balanced diet with plenty of fresh fruit and vegetables, lean meat, and unsaturated fat
Reducing your intake of caffeine, alcohol and sugary foods
Getting regular exercise which can help with symptoms such as hot flushes and low mood. It is also important to protect bone and cardiovascular health
Hormone replacement therapy (HRT) is used to help relieve perimenopause symptoms as well as safe guard longer term health
Non-hormonal remedies such as Black Cohosh, St John's Wort and Rhodiola Rosea can also help with some of the symptoms such as hot flushes and low mood