As wellbeing specialists, we are all too aware of the impact a high-pressure lifestyle can have on mental and physical wellbeing, so we know this would be a vitally important project for us.
Who Did We Survey?
Stress is a widespread issue, so we based our survey on a 2000-strong study group from across Great Britain.
The participants were from hugely diverse backgrounds, represented different age groups and hailed from various regions.
The results we unearthed were worrying and reinforced our belief that we need to make drastic changes to our lifestyles to become a healthier nation.
Check and manage your cortisol levels with our cortisol blood test
How Bad Is Stress In The UK?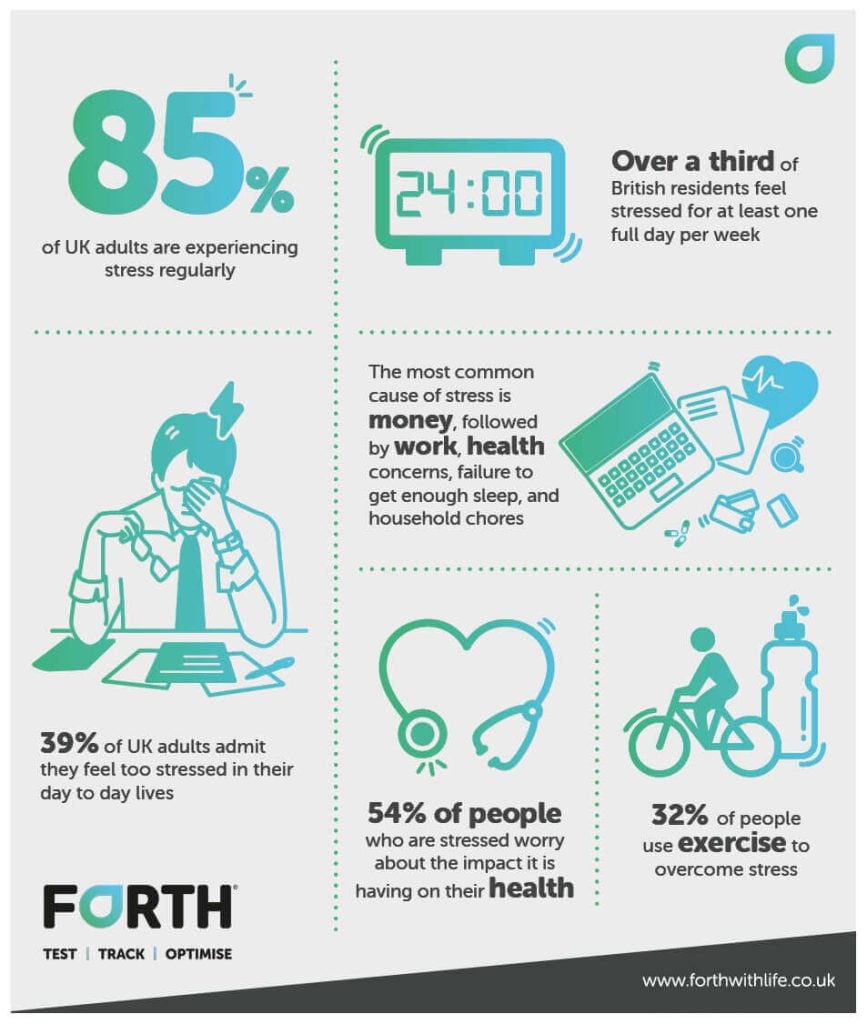 According to our data, over a third (37%) of British residents feel stressed for at least one full day per week. That equates to four days a month at a minimum. However, it doesn't end there, when taking into account the entire study group, Brits feel stressed for an average of nine days per month. Those who don't feel stressed at all are very much in the minority, coming in at around 15% of all participants. That means that the remaining 85% are experiencing a clearly recognisable level of worry regularly.
Women Are More Stressed Than Men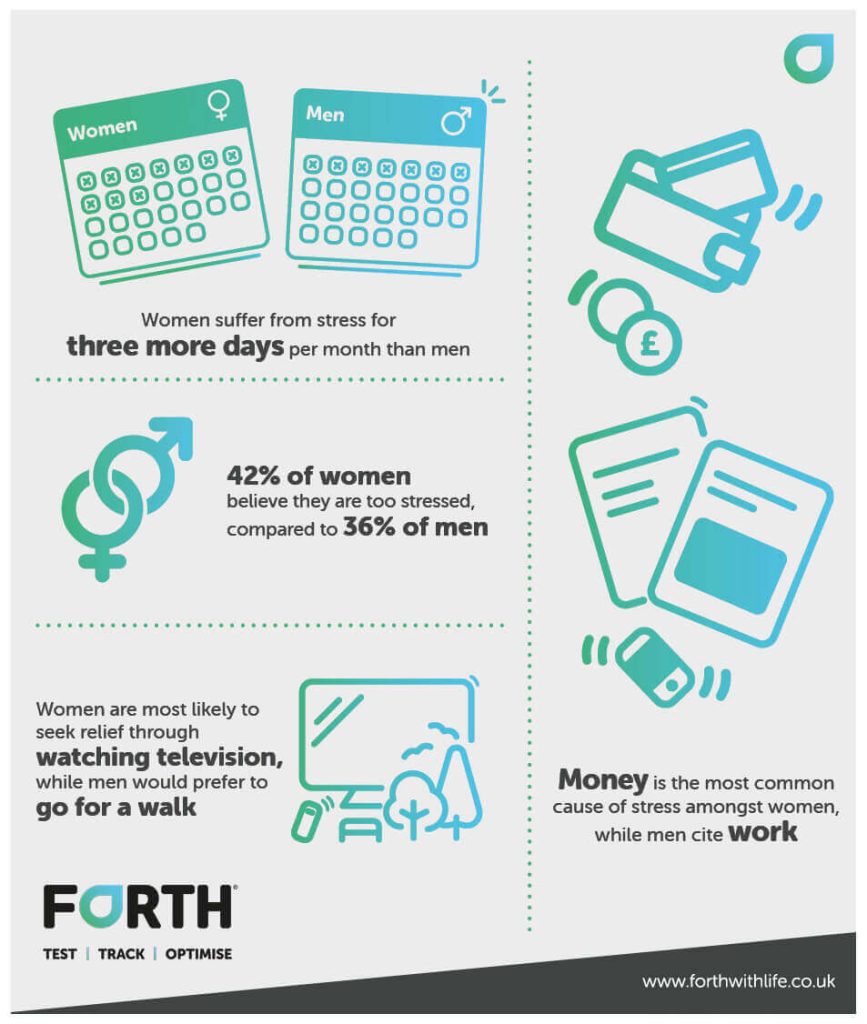 Of the two sexes, women are substantially more likely to be stressed than men. The female participants of our survey admitted that, on average, they suffered from stress for three more days per month than their male counterparts. Money is the most common cause of stress amongst this particular demographic, while men tend to cite work as the reason they feel under pressure. Of the women who took part in the study, 42% believed that they were too stressed throughout their day to day life, while 36% of men believed that this was the case for themselves. When it came to the impact of stress on one's physical and mental health and wellbeing, a huge 59% of women admitted that it worried them, while 47% of men were concerned about it. To fight back against the pressure, it appears that the majority of women seek relief through watching television, while most men would prefer to take themselves out for a walk.
Students Suffer From Stress The Most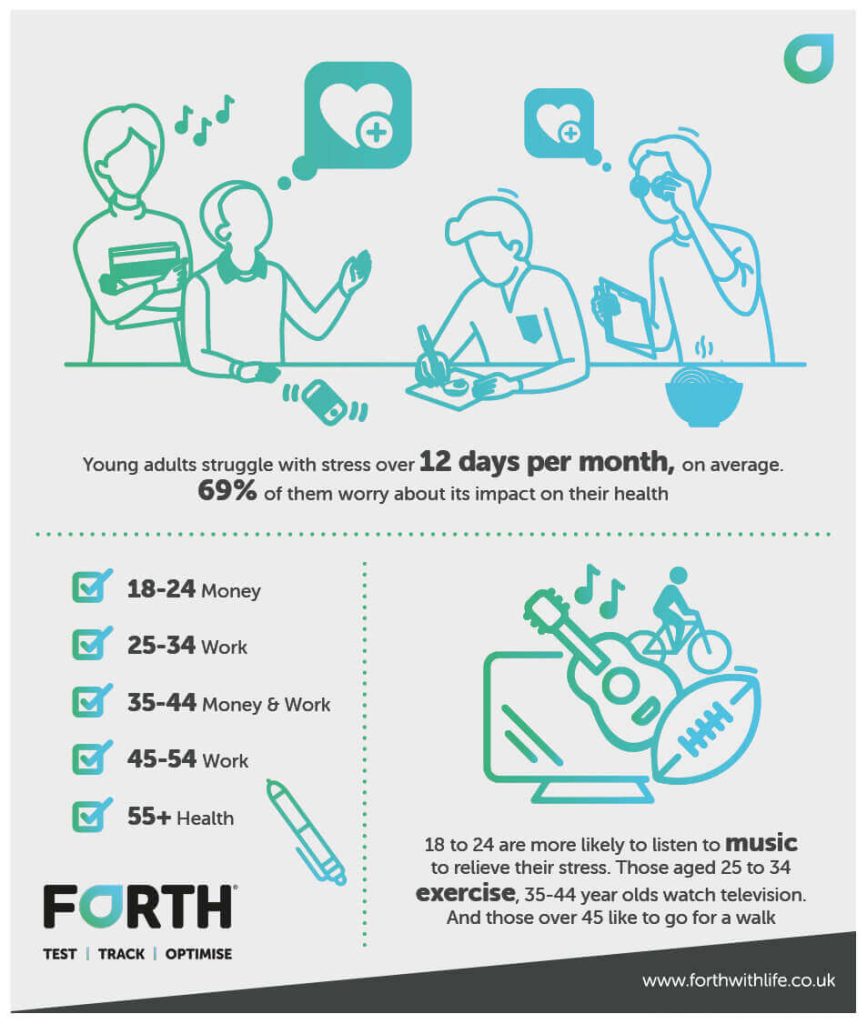 A rather surprising set of statistics reveals that some of the most stressed members of society are those who are of "university age" - falling within the 18-24 bracket. Very worryingly, they struggle with stress for over 12 days of every month on average and are the age group most likely to worry about its impact on their health. Their stress is usually surrounding financial matters, while work takes over as the primary concern for those aged between 25 and 34. The majority of 35-44-year olds find that it's a bit of both, while people aged between 45 and 54 agree that work is the most stressful element of their lives. At 55 and over, concerns about health take over. Each age group deals with stress in their own way. From 18 to 24, people are more likely to listen to music. From 25 to 34, exercise proves the most effective escape, while 35-44-year olds prefer to watch television. Those over 45 like to go walking.
Residents Of Northern Ireland Are Most Stressed
Stress levels in Britain are even divisible by region. According to our research, Northern Ireland suffers the most, with its residents admitting to suffering from stress over more than 12 days per month on average. Those least stressed tend to hail from the North East, where they spend around seven days per month feeling the pressure.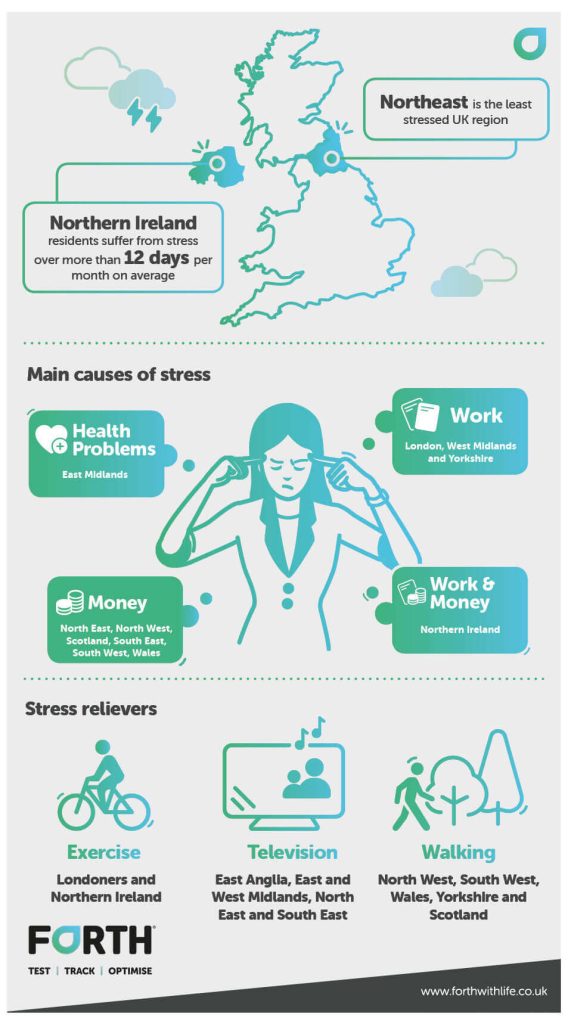 Health problems keep those from East Anglia and the East Midlands up at night, while residents of London, the West Midlands and Yorkshire find work more stressful. Money problems trouble participants from the North East, North West, Scotland, the South East, the South West and Wales, while those from Northern Ireland struggle with a combination of work-based and financial concerns. They are also more likely to worry about the lasting impact stress will have on their health. There's even a regional divide when it comes to stress relief. Londoners and those from Northern Ireland prefer exercise, television is the preferred remedy of East Anglia, the East and West Midlands, the North East and the South East, and those from the North West, South West, Wales, Yorkshire and Scotland prefer to go for a walk.
So, What Causes Stress?
The data we generated revealed that the most common causes of stress amongst our participants were:
Money
Work
Health concerns
Lack of sleep
Pressure of household chores
Over a third of the Brits that took part admitted that they were too stressed throughout their day to day lives. Indeed, more than half told us that they were worried about the impact this was having on their health - with good reason.
What Happens When We are Stressed?
When we feel stressed a hormone called cortisol is released by the body. If this happens too often our body can no longer respond to stress, and we start to feel enormously fatigued. Stress can also exacerbate heart problems, respiratory conditions and digestive issues to name just a few. It can even cause ongoing muscle tension which may lead to a higher likelihood of injury during physical exertion. Mental wellbeing can also be affected with anxiety and depression spiralling to extremely unhealthy levels during stressful periods.
How Can Stress Levels Be Reduced?
So, what can we do to alleviate these problems? Firstly, we need to know how well our body is copying by gaining insight into our inside health through measuring key biomarkers such as cortisol. We can then start to make changes to our lifestyle. In our survey, just under a third of the residents of Great Britain use endorphin-producing exercise to overcome a crushing sense of pressure. Exercise, of course, offers the added bonus of bolstering your physical health. Others preferred getting outside for a walk, watching television, reading a book or listening to music.
Conclusion
As a country, we need to pay more attention to rapidly rising stress levels and work to diminish them. Individually, we need to take more control of our health by understanding the impact our lifestyle is having on our inside health. Then develop ways to change and improve it.
Here at Forth we believe empowering people with information about their inner health, is the first step to improving your wellbeing so you can live a longer, healthier and hopefully happier life.